Author: Aaron Luse
Published: 2017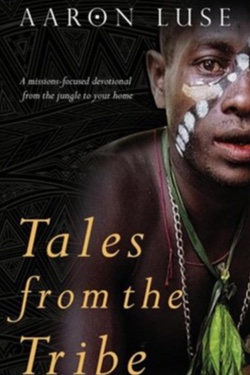 Tales from the Tribe is a missions-focused devotional book that will inspire, challenge, and educate you through incredible true stories that come to life from the jungle to your home. Get ready to see, feel, and even taste what it's like to be a missionary living in a tribal village.
Tales from the Tribe is not merely a fascinating collection of strange customs, exotic animals, and humorous situations. It is a journey of learning more about the life of tribal missionaries. Each part of the book explains the process of establishing thriving churches among the least reached people groups of the world:
Part 1: Going Worldwide
Making a Move and Adjusting to a New Life
Part 2: Groundwork
Preparing Foundations through Literacy and Translation
Part 3: Gospel Witness
Telling the Salvation Message through Teaching and Living
Part 4: Growing Wisely
Training to Follow Christ Through Discipleship and the Church
Part 5: Giving Way
Passing the Baton to Maturing Believers and Watching Them Lead
The five sections of this book take you through the process of missions, from learning a tribal language and culture to seeing a thriving church established. Within those sections, for every chapter, in addition to fun village facts and tidbits of science, you will find:
From the Tribe – a real-life story that took place while we lived in the village
To Your Home – a lesson that can be learned from the story
In the Word – a passage of Scripture to read with three questions for further study
On Your Journey – a thought to take with you as go out on your own journey
This book is unique in that it can be read straight through from beginning to end, in random order, or as a 35-day devotional study. It is a great tool for individual devotions and has been designed to work especially well in a small group study format.
These daily devotions take a close look at the lessons, insights, and challenges found in God's Word and their relevance for each of us today. You will be encouraged to make a difference on your side of the world and maybe on the other side as well.